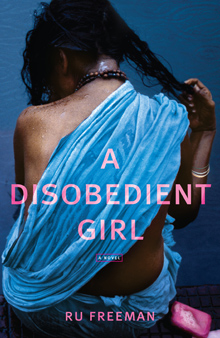 Set in Sri Lanka, A Disobedient Girl
tells the story of two women, Latha and Biso. Latha is raised in the priviledged household of the Vithanages. As a young child, her role is that of a friend to their only child, a daughter named Thara. As young girls, their status appears to be the same, but as Latha grows older she discovers that her destiny is that of a servant. She sees and experiences the difference in class and must come to deal with this painful realization. Biso is a mother of three, desperately attempting to get her and her three children away from her alcoholic and abusive husband. The reader follows Biso on her several day long journey to her mother's family in the north.
Freeman's writing is vivid and honest. The characters come alive on the pages of this debut novel. Freeman introduces us to two extremely strong women, attempting to survive in a world that attempts to oppress them. I have to strongly disagree with other reviews that indicated these two characters aren't deserving of sympathy, that they deserved the lives they were forced to live. They couldn't exactly rise up and overcome their oppressors. The lives they were leading were once forced upon them. They were born into this horrid system of ranking. The lengths they went to and the sacrifices they were forced to make earned them my undying respect.
In reading A Disobedient Girl
I viewed a side of Sri Lankan culture that I hadn't ever before. Freeman dealt with difficult issues that many are afraid to delve into. The journey the two women take is a painful search for independence and respect in a culture that restricts privileges due to class. A Disobedient Girl
is a painful and devastating glimpse at this culture. I highly recommend this novel to any reader interested in learning about different cultures. It will open your eyes to these differences in cultures, and the plights that women are forced to deal with based purely on their sex. It also brings up a lot of points of discussion and would be the perfect book club joice as well. Reading this made me appreciate even more the rights I am afforded as a citizen of a democratic nation. This novel was set in the 1980s and 1990s and it is terrifying that situations like this existed in my lifetime. So rush to your local bookstore and pick up a copy; you won't regret it.
Thank you to TLC Book Tours for giving me the opportunity to review this book, and to the publisher for providing me a review copy.
You can enter to win a copy of A Disobedient Girl
! Thanks to the publisher, I have an extra copy to give away. To enter, comment on this post. For extra entries, tweet and/or blog about it. Your comment must contain your email address. Entries without this contact information will be authomatically deleted. Contest open to U.S. and Canada only. The winner will be announced on Monday, August 24. GIVEAWAY IS NOW CLOSED!
Following are additional stops on this tour.
Tuesday, August 18th: Worducopia
Thursday, August 20th: My Friend Amy
Monday, August 24th: Maw Books
Tuesday, August 25th: Lost in Books
Thursday, August 27th: Bibliophile by the Sea
Tuesday, September 1st: A Sea of Books
Tuesday, September 8th: Wordlily
Monday, September 14th: Shhh I'm Reading
Wednesday, September 16th: Savvy Verse and Wit
Thursday, September 17th: Ticket to Anywhere
Tuesday, September 22nd: Musings of a Bookish Kitty
Thursday, September 24th: Fizzy Thoughts
Monday, September 28th: Book Addiction
Wednesday, September 30th: Caribousmom