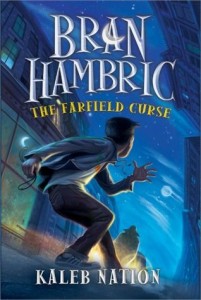 At the age of six years old, Bran Hambric was found inside a sealed bank fault. He had no memory of how he had come to be in the vault. As a matter of fact, he couldn't remember anything. The only clue that lead to his identity was a torn piece of paper found with him, which stated: "Bran Hambric, born June 17." Hambric was found by Sewey Wilomas, an employee of the bank.
Eight years later, Hambric is living with the Wilomas family. The Finder's Keepers Law required that, since Sewey Wilomas found Bran, he is theirs "forever or until the End of Time, whichever comes later." Bran lives in the attic of the Wilomas home. He and Rosie (Mabel Wilomas' distant cousin) are essentially the Wilomas' servants.
The Wilomas' live in the City of Dunce, a town where magic and magical creatures have been outlawed. The slight mention of magic or mages (those that practice magic) can result in imprisonment.
One night Bran and Sewey are attacked by a creature who refers to himself as Shambles. During his attempt to take Bran, he mentions the name Emry Hambric, Bran's mother. This is the first Bran has heard anything about his past.
For the first time, Bran begins to question his origin. It doesn't take him long to discover he is not a normal boy. His mother, Emry Hambric, was a mage who risked her life to save Bran's. Emry helped create the Farfield Curse, a curse known to be powerful but hasn't been spoken of for the past eight years. The mages who helped create the Curse are now after Bran, for he is the only one that can awaken the horrible power that can unleash this curse. Bran must stop at nothing to prevent this Curse from occurring.
Bran Hambric: The Farfield Curse
was a very thrilling tale. The suspense builds and builds and comes to a powerful climax near the end. I literally read this is one night, nothing was able to pull my attention away. While technically considered a YA novel it is one that can be enjoyed by adults as well. Now, I would be remiss not to mention the similarities to the Harry Potter books. They do exist, but Kaleb is able to hold is own on this one.
The most impressive thing about this book is the author, Kaleb Nation. Kaleb was only fourteen years old when he started writing Bran Hambric, and it took most of his teenage years to complete it. This is a truly impressive feat. The dedication and focus Nation gave to his writing is clearly evident in this book.